Ninja Gaiden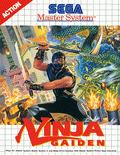 Game title:
Ninja Gaiden
Platform:
Sega Master System (SMS)
Author:
SIMS Co.
Release:
1992
Genre:
Action, Platform
Mode:
Single-player
Music:
Takashi Horiguchi
Game manual:
SegaMasterNinjaGaiden.pdf
Played:
40,492 times
Play Ninja Gaiden online in your browser without download and enjoy with RetroMania Online Emulator! Ninja Gaiden is classic game for SegaMS has Action, Platform genres for Sega Master System (SMS) retro console. If you love SegaMS Online games you can also find other emulator games on our site.
Ninja Gaiden is a side-scrolling, hack & slash, platform-action video game developed by SIMS and released by Sega for the Master System in 1992, with license from Tecmo. This video game stars Ryu Hayabusa and is part of the Ninja Gaiden series, although it features a plot not connected to any of the other Ninja Gaiden games. Due to the discontinued support of the console in Japan and North America because of its lukewarm sales in both regions when compared to the Nintendo Entertainment System, the game was only released in Europe, Australia and other PAL territories, bearing the Ninja Gaiden label instead of the Shadow Warriors one that usually was used for the series by the time in PAL releases.
Ryu Hayabusa is a member of the Dragon Ninja clan, who have protected Japan for generations. One day he is away from home, he receives a message that the Dragon Village, home of the Dragon clan, has been brutally massacred. He rushes home finding that all but one of the village members have been killed. The last survivor of the village tells Ryu with his dying breath that the sacred Bushido scroll has been stolen. The Bushido is a scroll of power so strong that its owner can control the world. As the last Ninja of the Dragon clan, the fate of the world is in its hands. He embarks on a trip to regain the Sacred Scroll of Bushido from the hands of the evil Shogun of Darkness and his minions.
There are two versions of the game that exist. The first version tells the story through the eyes of Ryu himself, explaining his experiences in great detail. The second version is narrated from an outside source, but some details of the plot are not explained as much.
The game features similar gameplay mechanics to the previous NES Ninja Gaiden games. Movements, attacks and jumps are performed in the same mood, and special ninja attacks are cast as usually, by pressing Up and Attack simultaneously. This version replaced some features from the NES games with new abilities, such as the ability to climb hand-over-hand or cling to walls in the NES games being replaced by the new wall-to-wall jumping ability in the Master System game, similar to the later 2004 Xbox game and later 3D Ninja Gaiden games after that.
More details about this game can be found on
Wikipedia
How to play:
Click on the joystick icon in the Ninja Gaiden online emulator to see how to control the Ninja Gaiden game