Rocky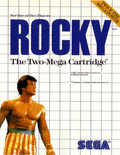 Game title:
Rocky
Platform:
Sega Master System (SMS)
Author:
SEGA
Release:
1987
Genre:
Action, Sport, Fighting
Mode:
Single-player
Design:
John G. Avildsen
Game manual:
Rocky_-_SMS_-_Manual.pdf
Played:
52,249 times
Play Rocky online in your browser without download and enjoy with RetroMania Online Emulator! Rocky is classic game for SegaMS has Action, Sport, Fighting genres for Sega Master System (SMS) retro console. If you love SegaMS Online games you can also find other emulator games on our site.
Rocky was the second video game based on the popular series of Rocky movies, released for the Sega Master System in 1987. The player must train Rocky Balboa before each fight to improve his skills. Rocky possesses a straight punch, a hook, an uppercut, and body punch as well as various combos.
The opponents, in order, are: Apollo Creed, Clubber Lang and Ivan Drago. Fights are of 15 rounds duration, with an increasing level of difficulty depending on the opponent, and different strategies required to overcome each. The game also features a two-player mode where player two chooses from any of the above opponents, while player one always controls Rocky.
More details about this game can be found on
Wikipedia
How to play:
Click on the joystick icon in the Rocky online emulator to see how to control the Rocky game