C-So!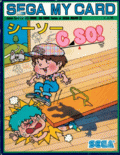 Game title:
C-So!
Platform:
Sega Computer Videogame SG-1000
Author:
Compile
Release:
1985
Genre:
Action, Platform
Mode:
Single-player
Design:
Takayuki Hirono, Satoshi Fujishima, Masamitsu Niitani
Played:
9,559 times
Play C-So! online in your browser without download and enjoy with RetroMania Online Emulator! C-So! is classic game for SG1000 has Action, Platform genres for Sega Computer Videogame SG-1000 retro console. If you love SG1000 Online games you can also find other emulator games on our site.
C-So! is a platform game in which you control a man that has to collect items like flowers, apples and cherries, while he is being chased by hostile monsters.
The monsters must be crushed or hurled against the ceiling by using a hand spike. Each level also contains elastic beds and doors. The beds make it possible to jump from platform to platform and the doors make it possible to escape the monsters by leaving through one door and showing up at the other.
Before you can continue to the next level all items must have been collected and all monsters killed.
More details about this game can be found on
MobyGames
How to play:
Click on the joystick icon in the C-So! online emulator to see how to control the C-So! game