Champion Pro Wrestling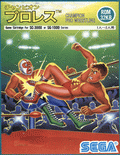 Game title:
Champion Pro Wrestling
Platform:
Sega Computer Videogame SG-1000
Author:
SEGA Enterprises Ltd.
Release:
1985
Genre:
Action, Sport, Fighting
Mode:
Single-player
Played:
11,941 times
Play Champion Pro Wrestling online in your browser without download and enjoy with RetroMania Online Emulator! Champion Pro Wrestling is classic game for SG1000 has Action, Sport, Fighting genres for Sega Computer Videogame SG-1000 retro console. If you love SG1000 Online games you can also find other emulator games on our site.
A straightforward Pro Wrestling game from Sega in the Champion sport series. You always start at rank C and have to fight your way up to rank B and A. To play for a rank you 'll have to fight three matches. Winning two out of three matches promotes you to an higher rank. During a match several moves can be selected: chop, kick, pile driver, dropkick. The referee does a countdown when your opponent or you are down.
More details about this game can be found on
MobyGames
How to play:
Click on the joystick icon in the Champion Pro Wrestling online emulator to see how to control the Champion Pro Wrestling game