Hang-On II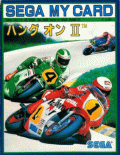 Game title:
Hang-On II
Platform:
Sega Computer Videogame SG-1000
Author:
SEGA
Release:
1985
Genre:
Racing
Mode:
Single-player
Played:
17,235 times
Play Hang-On II online in your browser without download and enjoy with RetroMania Online Emulator! Hang-On II is classic game for SG1000 has Racing genre for Sega Computer Videogame SG-1000 retro console. If you love SG1000 Online games you can also find other emulator games on our site.
This is basically an SG-1000 version of the popular Sega arcade game Hang On, from earlier in the year. Has a decent re-arrangement of the arcade game's theme music. So you race against the clock to reach each checkpoint in each course.
While you appear to be racing against other motorbikes, there is no keeping track of your position. The other bikes are just for you to dodge. The sections of the course have different background - e.g green fields, yellow desert, blue water, mountains, rock mesas, skyscraper buildings.
More details about this game can be found on
MobyGames
How to play:
Click on the joystick icon in the Hang-On II online emulator to see how to control the Hang-On II game