Hustle Chumy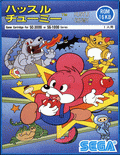 Game title:
Hustle Chumy
Platform:
Sega Computer Videogame SG-1000
Author:
Compile
Release:
1984
Genre:
Action, Platform
Mode:
Single-player
Design:
Masamitsu Niitani
Played:
11,157 times
Play Hustle Chumy online in your browser without download and enjoy with RetroMania Online Emulator! Hustle Chumy is classic game for SG1000 has Action, Platform genres for Sega Computer Videogame SG-1000 retro console. If you love SG1000 Online games you can also find other emulator games on our site.
You are Chumy, the mouse. You live in the sewer, and you are hungry. Luckily, the sewer is filled with cheese, only it is guarded by menacing creatures such as rabbits, turtles and bats.
In order to get his cheese, Chumy must go between platforms connected by ladders, all the time avoiding the other creatures. Luckily, Chumy can jump very far, across and above the nasties. Chumy also has an arsenal of cans to throw at the enemies. Most die after just one hit, whereas others are more impervious to attacks. The rabbits are particularly dangerous, since they may pounce at you unexpectedly, they being able to jump just as far as Chumy. When Chumy eats cheese (or bombs or biscuits), he moves slower due to the extra weight. When the mouse has fed on all the cheese, it can take the dust chute down from the top level to the bottom, and make its way to the exit and on to the next level. Control Chumy with the cursor keys and Z for jumping, X for throwing.
This game has also been included, in a slightly revised form, on Compile's Disk Station #0.
More details about this game can be found on
MobyGames
How to play:
Click on the joystick icon in the Hustle Chumy online emulator to see how to control the Hustle Chumy game