James Bond 007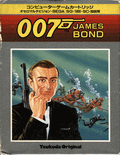 Game title:
James Bond 007
Platform:
Sega Computer Videogame SG-1000
Author:
Parker Brothers
Release:
1983
Genre:
Action, Shooter
Mode:
Single-player
Design:
Joseph Gaucher, Kathy Von, Paul Crowley
Music:
Dan Kurchevsky
Played:
9,608 times
Play James Bond 007 online in your browser without download and enjoy with RetroMania Online Emulator! James Bond 007 is classic game for SG1000 has Action, Shooter genres for Sega Computer Videogame SG-1000 retro console. If you love SG1000 Online games you can also find other emulator games on our site.
James Bond 007 is a 1983 side-scrolling video game developed and published by Parker Brothers for the Atari 2600, Atari 5200, Atari 8-bit family, Commodore 64, and ColecoVision, and distributed in Japan by Tsukuda Original for the Sega SG-1000.
The player controls the titular character of James Bond across four levels. The player is given a multi-purpose vehicle that acts as an automobile, a plane, and a submarine. The vehicle can fire shots and flare bombs, and travels from left to right as the player progresses through each level. The player can shoot or avoid enemies and obstacles that appear throughout the game, including boats, frogmen, helicopters, missiles, and mini-submarines.
The game's four levels are loosely based on missions from various James Bond films:
Diamonds are Forever (1971): The player rescues Tiffany Case from an oil rig.The Spy Who Loved Me (1977): The player destroys an underwater laboratory.Moonraker (1979): The player destroys satellites.For Your Eyes Only (1981): The player retrieves radio equipment from a sunken boat.
More details about this game can be found on
Wikipedia
How to play:
Click on the joystick icon in the James Bond 007 online emulator to see how to control the James Bond 007 game