Ninja Princess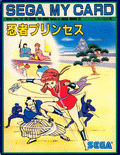 Game title:
Ninja Princess
Platform:
Sega Computer Videogame SG-1000
Author:
Sega
Release:
1985
Genre:
Action, Shooter
Mode:
Single-player
Design:
Rieko Kodama
Played:
11,741 times
Play Ninja Princess online in your browser without download and enjoy with RetroMania Online Emulator! Ninja Princess is classic game for SG1000 has Action, Shooter genres for Sega Computer Videogame SG-1000 retro console. If you love SG1000 Online games you can also find other emulator games on our site.
Sega Ninja is a 1985 arcade game released by Sega. The game features Princess Kurumi, the titular female ninja, battling enemies using throwing knives and throwing stars. The game was originally released as Ninja Princess, before the revised edition titled Ninja Princess 1 Mega Ban - Ninja, which became Sega Ninja/The Ninja in the English version.
It is typical of a run and gun game, such as Commando and Ikari Warriors, where the player has to shoot enemies and defeat a boss. Enemies include samurai, ninja and dogs. The player's normal weapons are an unlimited supply of throwing knives, but power-ups to throwing stars are available; in addition, the player can also turn invisible for a short period of time. While most of the stages are vertically scrolling, a few of the levels add some variety - including a level where the player must scale a wall.
The game is set during Japan's Edo period, in about the year 1630, in a province called Ohkami in the western region, where the power has been seized by an evil tyrant named Gyokuro. The goal is to end his oppressive rule and restore peace.
Ports of the game were released for Sega's SG-1000 and Master System consoles. The latter version, retitled Ninja Princess 1 Mega Ban - Ninja, was released a year after the arcade game and changed the protagonist from female to male.Other changes include the rearranging of stages from the original Japanese release in western releases of the game as well as a scroll system, which requires that five green scrolls must be collected to get to final level of the game, as all of them give hints on how the final level must be entered. If the player finishes the game without them, the game will backtrack to a level closest to where a missing scroll lies. Graphics are also different, made in a more realistic style.
More details about this game can be found on
Wikipedia
How to play:
Click on the joystick icon in the Ninja Princess online emulator to see how to control the Ninja Princess game