Pacar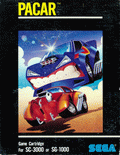 Game title:
Pacar
Platform:
Sega Computer Videogame SG-1000
Author:
Sega
Release:
1983
Genre:
Action
Mode:
Single-player
Game manual:
Pacar_-_SG1000_-_Manual.pdf
Played:
13,382 times
Play Pacar online in your browser without download and enjoy with RetroMania Online Emulator! Pacar is classic game for SG1000 has Action genre for Sega Computer Videogame SG-1000 retro console. If you love SG1000 Online games you can also find other emulator games on our site.
Pacar is an SG-1000 game initially released in 1983. The game plays like a combination of the Namco games Rally X and Pac-Man and a follow-on from Sega's 1979 game Head-On. As the green car Pacar, you consume dots like Pac-Man, and dodge red and blue cars instead of ghosts. Like Pac-Man, you collect 'power dots' for invincibility and progress through levels.
More details about this game can be found on
MobyGames
How to play:
Click on the joystick icon in the Pacar online emulator to see how to control the Pacar game