Safari Race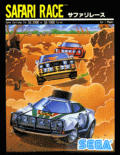 Game title:
Safari Race
Platform:
Sega Computer Videogame SG-1000
Author:
SEGA
Release:
1984
Genre:
Racing
Mode:
Single-player
Game manual:
Safari_Race_-_SG1000_-_Manual.pdf
Played:
66,802 times
Play Safari Race online in your browser without download and enjoy with RetroMania Online Emulator! Safari Race is classic game for SG1000 has Racing genre for Sega Computer Videogame SG-1000 retro console. If you love SG1000 Online games you can also find other emulator games on our site.
Safari Race is a racing game for the SG-1000, developed and published by Sega in 1984. The player must drive through various 'sections', avoiding wildlife and other cars while making sure not to run out of fuel.
The game is notable for using licensed cars, potentially the first video game to do so. The player controls a Lancia Stratos HF, and according to the box art, some of the rival cars are Audi Quattros. The Lancia Stratos would receive greater video game recognition in Sega's later creation Sega Rally Championship.
More details about this game can be found on
SegaRetro
How to play:
Click on the joystick icon in the Safari Race online emulator to see how to control the Safari Race game