Sega Flipper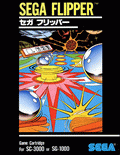 Game title:
Sega Flipper
Platform:
Sega Computer Videogame SG-1000
Author:
SEGA Enterprises
Release:
1983
Genre:
Action, Simulator
Mode:
Single-player
Game manual:
Sega_Flipper_-_SG1000_-_Manual.pdf
Played:
12,820 times
Play Sega Flipper online in your browser without download and enjoy with RetroMania Online Emulator! Sega Flipper is classic game for SG1000 has Action, Simulator genres for Sega Computer Videogame SG-1000 retro console. If you love SG1000 Online games you can also find other emulator games on our site.
Sega Flipper is a pinball game released for the SG-1000 in 1983. In New Zealand it is known as Video Flipper. It was one of the first pinball video games to be released, being released one year earlier than attempts from Jaleco and Nintendo but four years after Atari's Video Pinball. Unlike Video Pinball, however, Sega Flipper makes use of color.
Standard pinball simulation, except for the moving bumper. For one or two players. Has four flippers (two big, two small). Get bonus points from 'drop targets' and 'kicker holes' and bonus balls for high scores.
More details about this game can be found on
MobyGames
How to play:
Click on the joystick icon in the Sega Flipper online emulator to see how to control the Sega Flipper game