Tank Battalion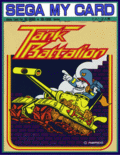 Game title:
Tank Battalion
Platform:
Sega Computer Videogame SG-1000
Author:
Namco
Release:
1980
Genre:
Action, Shooter
Mode:
Single-player
Design:
Shinichirou Okamoto, Kazukuni Hiraoka, Shigeichi Ishimura
Played:
31,569 times
Play Tank Battalion online in your browser without download and enjoy with RetroMania Online Emulator! Tank Battalion is classic game for SG1000 has Action, Shooter genres for Sega Computer Videogame SG-1000 retro console. If you love SG1000 Online games you can also find other emulator games on our site.
Tank Battalion is a multi-directional shooter arcade game that was released by Namco in 1980. In the game, you control a tank in a maze. One after another, enemy tanks enter the maze, and you must shoot them all before they reach and destroy your base. The maze walls can be shot and destroyed. After all white tanks are destroyed, you proceed to the next level. Each level layout calls for different tactics, depending on the formations of the walls. Some spots on certain levels make for perfect ambush tactics, on other levels you must rally back and forth to eradicate the enemy tanks. Occasionally a red tank appears, shoot it for bonus points.
Tank Battalion received two sequels: Battle City (in 1985) and Tank Force (in 1991).
More details about this game can be found on
Wikipedia
How to play:
Click on the joystick icon in the Tank Battalion online emulator to see how to control the Tank Battalion game