Zaxxon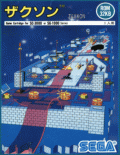 Game title:
Zaxxon
Platform:
Sega Computer Videogame SG-1000
Author:
Sega
Release:
1982
Genre:
Action, Shooter
Mode:
Single-player
Music:
Katsuhiro Hayashi
Played:
21,819 times
Play Zaxxon online in your browser without download and enjoy with RetroMania Online Emulator! Zaxxon is classic game for SG1000 has Action, Shooter genres for Sega Computer Videogame SG-1000 retro console. If you love SG1000 Online games you can also find other emulator games on our site.
Zaxxon is a 1982 isometric shooter arcade game developed and released by Sega. Some sources claim that Japanese electronics company Ikegami Tsushinki also worked on the development of Zaxxon. The game gives the player the experience of flying a fighter craft through a fortress while shooting at enemy entities (missiles, enemy gunfire, etc.) The object of the game is to hit as many targets as possible without being shot down or running out of fuel—which can be replenished, paradoxically, by blowing up fuel drums.
At the time of its release, Zaxxon was unique as it was the first game to employ axonometric projection, which lent its name to the game (AXXON from AXONometric projection). The type of axonometric projection is isometric projection: this effect simulated three dimensions from a third-person viewpoint. It was also one of the first video games to display shadows, to indicate the ship's altitude above the surface; the game also employed an altitude meter, allowing the player to control how high or low the ship is above the surface. It was also the first arcade game to be advertised on television, with a commercial produced by Paramount Pictures for $150,000.
The world record on Zaxxon is 4,680,740 points scored by Vernon Kalanikaus of Lā'ie, Hawai'i, on March 15, 1982, according to the Twin Galaxies Intergalactic Scoreboard. A bootleg of the game was released in the arcades in 1982 called Jackson.
More details about this game can be found on
Wikipedia
How to play:
Click on the joystick icon in the Zaxxon online emulator to see how to control the Zaxxon game