3 Ninjas Kick Back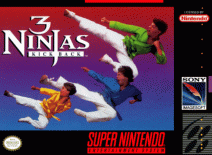 Game title:
3 Ninjas Kick Back
Platform:
SNES
Author:
Malibu Interactive
Release:
1994
Genre:
Action, Platform
Mode:
Single-player
Design:
Ian Sabine, Terry Lloyd, Mike Giam
Music:
Richard Joseph
Played:
61,089 times
Play 3 Ninjas Kick Back online in your browser without download and enjoy with RetroMania Online Emulator! 3 Ninjas Kick Back is classic game for SNES has Action, Platform genres for SNES retro console. If you love SNES Online games you can also find other emulator games on our site.
3 Ninjas Kick Back is a beat 'em up video game for the Super NES, Sega Genesis/Mega Drive and Sega CD platforms. It was developed by Malibu Interactive, published by Sony Imagesoft and was released in 1994. The game is based on the motion picture of the same name.
Fifty years ago, the master samurai fought in a ninja tournament to win a magical dagger that together with an ancient samurai sword, is believed to be the key to unlocking a secret cave laden with riches. After winning the tournament and rightfully gaining the dagger, it was stolen by the master's archrival, Koga. Though the master searched far and wide, he never found any trace of Koga or the dagger. Now, too old to continue searching, the master sends his three young apprentices, the young ninja brothers, Rocky, Colt, and Tum-Tum, to assist him in retrieving the prized dagger. Once it has been restored to its rightful owner, the dagger shall once again be passed along to younger generations, through the winners of the ninja tournament.
There is an initial character screen, where one of the three brothers must be chosen as the main character. The game itself is a very standard side scrolling platform game. Each of the characters has their own unique weapon. Rocky has a bo, Colt uses a katana, and Tum-tum wields twin sai. Enemies consist of rebel ninjas working for Koga, wild animals such as dogs and bats, and hazards such as moving boulders and spikes. As shown below, the game menu is a system representation of the poster used for the movie of the same name.
There are several levels to the game, each one made up of smaller zones. The game progresses by running the character through each zone, and arriving at the other end. Each level has a minor boss, with the character having to defeat Koga as the final boss. Upon retrieval of the dagger, the character rejoins the master in Japan, returning to him his stolen dagger.
More details about this game can be found on
Wikipedia
How to play:
Click on the joystick icon in the 3 Ninjas Kick Back online emulator to see how to control the 3 Ninjas Kick Back game