Captain Commando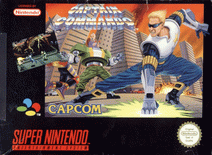 Game title:
Captain Commando
Platform:
SNES
Author:
Capcom
Release:
1991
Genre:
Action, Fighting
Mode:
Multiplayer
Design:
Akira Yasuda, Junichi Ohno, Yōichi Egawa
Music:
Masaki Izutani
Played:
72,556 times
Play Captain Commando online in your browser without download and enjoy with RetroMania Online Emulator! Captain Commando is classic game for SNES has Action, Fighting genres for SNES retro console. If you love SNES Online games you can also find other emulator games on our site.
Captain Commando is a classic Capcom game in popular beat'em up genre originally developed as a coin-operated video game, and later ported to several other platforms like Super Nintendo (SNES) and PlayStation. By the moment of release it was a breakthrough due to outstanding graphics and attractive gameplay. Now, you can play the SNES version of this game if you install super nintendo emulators romsmania.com if only you do not have the Super Nintendo which still works.
The game is set in Metro City in the year 2026. Technologies have evolved and we appear in the world of cyberpunk, however, the morale remains to be the same like in a nowadays crime neighborhood. The level of violence in the city is outrageous and there are only a few people able to fight it. And you will play on behalf of Captain Commando and his Commando Team to stop the main criminal bosses. Actually Metro City becomes a setting for the Capcom games frequently. So, you will find the refers to the Final Fight with Mike Haggar, and many other famous characters whom you for certain know if you have played the Street Fighter series (Rolento, Poyzen, Cody, Guy etc.). But these characters were at war with crime (or were its part) in 1989, and the plot of Captain Commando has stepped in the future where crime has evolved from the street to intergalactic level. And you will have to use your fists and feet to fight the evil in this game.
Gameplay and controls in this game are just the same like in the Final Fight. There are two buttons: one is for the attack, and another for a jump. There is an opportunity to run having pressed two times forward or back. It is also possible to lift objects just having risen near them and having pressed the attack button. A game supports up to 4 players at the same time. Having pressed the attack and a jump together it is possible to execute special reception. Its graphics is very colourful. There are many details. The characters are described in details as well. All the game reminds a qualitative animated cartoon of the beginning of the ninetieth like Ninja Mutant turtles or Mad Jack Pirate. You begin the game in the city, and finish on the edge of the Universe. Music is very good, but not especially memorable. However, it still maintains the atmosphere of the game properly.
To conclude, it has to be said that this game can offer you many hours of interesting gaming process. The mechanics are perfect. Controls are simple and clear. Game is incredibly beautiful (for those times). Characters are interesting and adventures are improbable. It is one of the best beat'em up game in the history and any fan of Capcom or just the person who isn't indifferent to this genre is obliged to get acquainted with this remarkable piece of art.
More details about this game can be found on
Wikipedia
How to play:
Click on the joystick icon in the Captain Commando online emulator to see how to control the Captain Commando game