F-Zero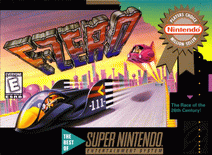 Game title:
F-Zero
Platform:
SNES
Author:
Nintendo
Release:
1990
Genre:
Racing
Mode:
Single-player
Design:
H. Yamauchi, S. Miyamoto, K. Shimizu
Music:
Yumiko Kanki, Naoto Ishida
Game manual:
F-Zero_-_Manual_-_SNES.pdf
Played:
110,644 times
Play F-Zero online in your browser without download and enjoy with RetroMania Online Emulator! F-Zero is classic game for SNES has Racing genre for SNES retro console. If you love SNES Online games you can also find other emulator games on our site.
F-Zero is a futuristic racing video game developed by Nintendo EAD and published by Nintendo for the Super Nintendo Entertainment System (SNES). The game was released in Japan on November 21, 1990, in North America in August 1991, and in Europe in 1992. F-Zero is the first game of the F-Zero series and was one of the two launch titles for the SNES in Japan, but was accompanied by additional initial titles in North America and Europe. It was re-released for the Virtual Console service on the Wii in late 2006, and Wii U in early 2013.
The game takes place in the year 2560, where multi-billionaires with lethargic lifestyles created a new form of entertainment based on the Formula One races called 'F-Zero'. There are four F-Zero characters that have their own selectable hovercar along with its unique performance abilities. The objective of the game is to beat opponents to the finish line while avoiding hazards such as slip zones and magnets that pull the vehicle off-center in an effort to make the player damage their vehicle or fall completely off the track. Each machine has a power meter, which serves as a measurement of the machine's durability; it decreases when the machine collides with land mines, the side of the track or another vehicle. Energy can be replenished by driving over pit areas placed near the home straight or nearby.
A race in F-Zero consists of five laps around the track. The player must complete each lap in a successively higher place to avoid disqualification from the race. For each lap completed, the player is rewarded with an approximate four-second speed boost called the 'Super Jet' and a number of points determined by place. An on-screen display will be shaded green to indicate that a boost can be used, however the player is limited to saving up to three at a time. If a certain amount of points are accumulated, an extra 'spare machine' is acquired that gives the player another chance to retry the course. Tracks may feature two methods for temporarily boosting speeds; jump plates launch vehicles into the air thus providing additional acceleration for those not at full speed and dash zones greatly increases the racer's speed on the ground. F-Zero includes two modes of play. In the Grand Prix mode, the player chooses a league and races against other vehicles through each track in that league while avoiding disqualification. The Practice mode allows the player to practice seven of the courses from the Grand Prix mode.
F-Zero has a total of fifteen tracks divided into three leagues ordered by increasing difficulty: Knight, Queen, and King. Furthermore, each league has four selectable difficulty levels: beginner, standard, expert, and master. The multiple courses of Death Wind, Port Town, and Red Canyon have a pathway that is not accessible unless the player is on another iteration of those tracks, which then in turn closes the path previously available. Unlike most F-Zero games, there are three iterations of Mute City that shows it in either a day, evening, or night setting. In BS F-Zero 2, Mute City IV continued the theme with an early morning setting.
More details about this game can be found on
Wikipedia
How to play:
Click on the joystick icon in the F-Zero online emulator to see how to control the F-Zero game