Ghoul Patrol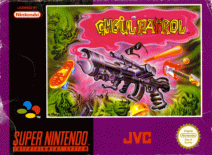 Game title:
Ghoul Patrol
Platform:
SNES
Author:
LucasArts
Release:
1994
Genre:
Action, Shooter
Mode:
Single-player
Design:
Andrew Carter, Holger Liebnitz, Anson Jew
Music:
Eric Swanson, David Warhol
Game manual:
Ghoul_Patrol_-_SNES_-_Manual.pdf
Played:
111,582 times
Play Ghoul Patrol online in your browser without download and enjoy with RetroMania Online Emulator! Ghoul Patrol is classic game for SNES has Action, Shooter genres for SNES retro console. If you love SNES Online games you can also find other emulator games on our site.
Ghoul Patrol is an overhead action game produced by LucasArts for the Super Nintendo Entertainment System in 1994 that serves as a sequel to Zombies Ate My Neighbors. It was re-released digitally on the Wii Virtual Console in 2010. A Genesis version was under development as well, but was never released.
The game stars Zeke and Julie, the characters from Zombies Ate My Neighbors, who must travel through five worlds to save their town from a horror exhibit that comes to life.
According to Toshiyasu Morita, a programmer and technology manager at LucasArts during the mid-1990s, this sequel was made by a third party that licensed the use of the Zombies Ate My Neighbors engine for this purpose.
More details about this game can be found on
Wikipedia
How to play:
Click on the joystick icon in the Ghoul Patrol online emulator to see how to control the Ghoul Patrol game