Killer Instinct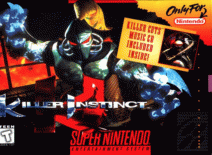 Game title:
Killer Instinct
Platform:
SNES
Author:
Rareware, Midway Games
Release:
1994
Genre:
Action, Fighting
Mode:
Single-player
Design:
Mark Betteridge, Chris Tilston, Martin Hollis
Music:
Robin Beanland, Graeme Norgate
Game manual:
Killer_Instinct_-_SNES_-_Manual.pdf
Played:
141,694 times
Play Killer Instinct online in your browser without download and enjoy with RetroMania Online Emulator! Killer Instinct is classic game for SNES has Action, Fighting genres for SNES retro console. If you love SNES Online games you can also find other emulator games on our site.
Killer Instinct is a fighting game developed by Rare and published by Midway and Nintendo. It was released as an arcade game in the fall of 1994 and, the following year, ported to the Super Nintendo Entertainment System (SNES) and the Game Boy. The game's plot involves an all-powerful corporation organising a fighting tournament. The story was adapted in a limited comic book series published under the short-lived Acclaim Comics imprint. Killer Instinct features several gameplay elements unique to fighting games of the time. Instead of fighting enemies in best-of-three rounds bouts, each player has two life bars. The player that depletes the other player's life bars first wins the match. The game also introduced 'auto-doubles', a feature which allows players to press a certain sequence of buttons to make characters automatically perform combos on opponents. Also featured in the game are 'combo breakers', special defensive moves that can interrupt combos. Critically acclaimed, Killer Instinct was followed by a sequel, the 1996 arcade game Killer Instinct 2, later ported to the Nintendo 64 as Killer Instinct Gold, as well as a 2013 revival of the franchise as a launch title for Xbox One. A port of the original game is included with the 2013 game under the title Killer Instinct Classic. Retrospective lists by various publications included it among the best fighting games of all time.
Ultratech is a very powerful megacorporation which organises a tournament called Killer Instinct. Along with regular participants, experimental creatures created by Ultratech also fight in the tournament so their strength can be tested. Ultratech also discovers a technology to make bridges between dimensions, and releases a two-headed, one-eyed, satyr monster called Eyedol from this dimensional prison.
Killer Instinct plays like many other fighting games, in which the player controls a character to beat an opponent in a one-on-one encounter. The game borrows the attack set of Street Fighter and is also inspired by the finishing moves from Mortal Kombat. There are also several features that distinguish it from other franchises:
A double energy bar: instead of winning two rounds, each player has two bars of energy. If a character finishes with his or her opponent's first life bar, the fight stops and resumes like a round, but the winning character still keeps whatever amount of energy he or she had at that moment. The player who depletes his or her opponent's second life bar wins the bout.Automatic combos: In Killer Instinct, many combos are automated. Rather than requiring the player to press a button for every attack within a combo, the computer will perform certain attacks within a sequence after key buttons are inputted.Finishing moves: Bearing resemblance to Mortal Kombat's Fatalities, each character has at least two moves known as No Mercy (Danger Move in later revisions) to finish the opponent. One of these No Mercy moves can be executed at the end of a combo (which is labelled as an Ultimate Combo), when the opponent's life bar flashes red (when his or her second bar is going to be depleted), although it uses a different combination of movements. Another finisher is the Humiliation, that forces the opponent to dance (the dance style depends on the character), but this can only be used if the player has his or her first life bar. Killer Instinct's finishing moves, while occasionally brutal, do not feature the level of violence typical of Mortal Kombat's Fatalities.Ultra Combo: Another finisher; it operates like an Ultimate Combo, though this one allows the character to deliver a long string of hits as the combo finisher instead, usually surpassing 20 hits, and can sometimes reach upwards of 80 hits.Combo Breaker: The player who is being caught in a combo may break out of it by performing a combo breaker move. The combo breaker is a designated special move of the player's character. A combo can be broken at either the auto-double or linker stage. To successfully break an auto-double, the player must use the breaker move at a strength lower than the auto-double itself (i.e. for a player to break a Medium auto-double s/he must use a Quick breaker). The combo can also be broken at the linker stage. At this stage the player can use any strength of breaker, making long combos a risky affair. Also, after performing a combo breaker, a white starburst will appear at the tip of the breaker's health bar, enabling advanced versions of some special moves that require a different command (e.g. Jago, instead of a regular green fireball, can shoot a red fireball).
More details about this game can be found on
Wikipedia
How to play:
Click on the joystick icon in the Killer Instinct online emulator to see how to control the Killer Instinct game