Kirby Super Star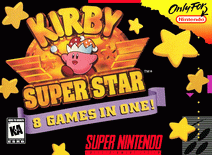 Game title:
Kirby Super Star
Platform:
SNES
Author:
HAL Laboratory
Release:
1996
Genre:
Action, Platform
Mode:
Single-player
Design:
Masahiro Sakurai, Shigenobu Kasai, Kazu Ozawa
Music:
Jun Ishikawa, Dan Miyakawa
Game manual:
Kirby_Super_Star_Manual_-_SNES.pdf
Played:
156,968 times
Play Kirby Super Star online in your browser without download and enjoy with RetroMania Online Emulator! Kirby Super Star is classic game for SNES has Action, Platform genres for SNES retro console. If you love SNES Online games you can also find other emulator games on our site.
Kirby Super Star, known as Kirby's Fun Pak in Europe is a 1996 platforming video game developed by HAL Laboratory and published by Nintendo for the Super Nintendo Entertainment System video game console. Kirby Super Star′s box art states that the game features eight games in one cartridge. Most of these games offered are mostly platforming-oriented, while some others are mini-games.
Kirby Super Star sees players take on the role of Kirby, who can float around the screen, inhale blocks and enemies and spit them out. By swallowing certain enemies after inhaling them, Kirby can copy their abilities and use them as his own, becoming able to perform a wide range of attacks. A unique feature of the game is the addition of helpers. When Kirby is in possession of an ability, he can choose to transform it into a helper character which can be controlled by a second player or the computer AI (certain abilities such as Crash or Microphone cannot be turned into helpers). Kirby can choose to give the helper a different form, or revert them into a power up to use on himself in an emergency. Certain helpers, such as Wheelie, allow Kirby to interact with them during two player play. If the helper takes too much damage, there is a short time for Kirby to grant it a new power before it disappears until Kirby creates a new one. However, if Kirby takes too much damage, he will lose a life.
More details about this game can be found on
Wikipedia
How to play:
Click on the joystick icon in the Kirby Super Star online emulator to see how to control the Kirby Super Star game