Super Bomberman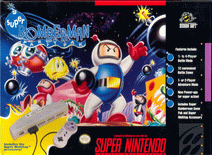 Game title:
Super Bomberman
Platform:
SNES
Author:
Hudson Soft
Release:
1993
Genre:
Action
Mode:
Single-player
Design:
Mikio Ueyama, Eiji Aoyama, Masaki Kobayashi
Music:
Jun Chikuma, Tomoyuki Hamada
Game manual:
Super_Bomberman_-_SNES_-_Manual.pdf
Played:
159,919 times
Play Super Bomberman online in your browser without download and enjoy with RetroMania Online Emulator! Super Bomberman is classic game for SNES has Action genre for SNES retro console. If you love SNES Online games you can also find other emulator games on our site.
Super Bomberman is the first video game in the Bomberman series released for the Super NES in 1993. It is also the first four-player game to be released on the Super NES and the first game in the series to be released in Europe keeping the Bomberman title instead of being called Dynablaster.
The game's story takes place in the far to the north of Bomberman's hometown, Peace Town, where it lies the modern metropolis Diamond City. There, the evil Carat Diamond and his cohort, scientist Dr. Mook, are holding a Robot Tournament with robots specially designed for their combat and offensive capabilities. They hope to steal Bomberman's advanced combat capabilities, Diamond has created a fake Bomberman to go to Peace Town and kidnap the real Bomberman. They're aware of Diamond's plot, Black Bomberman heads out alone to face the fake Bomberman. But Black Bomberman is defeated and his castle is taken. However, Black Bomberman escapes and seeks refuge with White Bomberman, and warns him of Diamond's evil plan. Later, hordes of enemy robots begin their advance toward Peace Town. The two heroes must join forces to defeat Diamond.
The game takes place on a single non-scrolling screen. The screen shows the top down view of a grid of 143 (13 x 11) squares. The grid restricts the movement of characters so they can only move horizontally or vertically around the screen. Pressing a button will make Bomberman drop a bomb at his feet. This bomb will pulse for a few seconds (allowing the player time to run away) and then explode, shooting flames horizontally and vertically. The game revolves around the idea of using these bomb blasts to destroy walls and enemies.
If a bomb explodes and the flame hits another bomb it will cause this second bomb to detonate early. This can cause large chain reactions. If the flame from any bomb hits any character it will injure or kill them (unless they are currently invincible).
Most levels start with the grid being partially filled with destructible soft walls. If a bomb blast hits one of these soft walls, then it disintegrates, allowing characters to pass through the now empty space. Once a bomb is laid, it is usually impossible to walk past until it has detonated. This leads to the tactic of trapping enemies with bombs and forcing them into bomb blasts but can also result in the player's defeat.
Special items can be picked up by walking over icons on the screen. These items are normally revealed when destroying walls or killing enemies. There are many different items which gives the player different abilities; these change a players tactics and the way the game is played.
More details about this game can be found on
Wikipedia
How to play:
Click on the joystick icon in the Super Bomberman online emulator to see how to control the Super Bomberman game