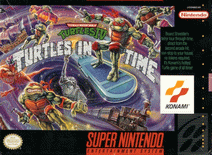 Teenage Mutant Ninja Turtles IV: Turtles in Time
Play Game
Teenage Mutant Ninja Turtles IV: Turtles in Time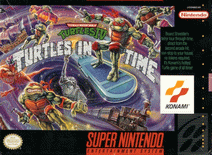 Game title:
Teenage Mutant Ninja Turtles IV: Turtles in Time
Platform:
SNES
Author:
Konami
Release:
1991
Genre:
Action, Fighting
Mode:
Single-player
Design:
Yasuo Okuda, Toshinori Shimono, Eiji Nakagawa
Music:
Mutsuhiko Izumi, Kazuhiko Uehara, Harumi Uekō, ...
Game manual:
Teenage_Mutant_Ninja_Turtles_IV-_Turtles_in_Time_-_SNES_-_Manual.pdf
Played:
121,402 times
Play Teenage Mutant Ninja Turtles IV: Turtles in Time online in your browser without download and enjoy with RetroMania Online Emulator! Teenage Mutant Ninja Turtles IV: Turtles in Time is classic game for SNES has Action, Fighting genres for SNES retro console. If you love SNES Online games you can also find other emulator games on our site.
Teenage Mutant Ninja Turtles: Turtles in Time is an arcade video game produced by Konami. A sequel to the original Teenage Mutant Ninja Turtles (TMNT) arcade game, it is a scrolling beat 'em up type game based mainly on the 1987 TMNT animated series. Originally an arcade game, Turtles in Time was ported to the Super Nintendo Entertainment System in 1992. It was retitled to serve as a sequel to Teenage Mutant Ninja Turtles III: The Manhattan Project. That same year, a game that borrowed many elements, Teenage Mutant Ninja Turtles: The Hyperstone Heist was released for the Mega Drive/Sega Genesis.
The introductory cut scene of the game details the game's plot. It begins with the Turtles watching a TV newscast on a Sunday evening, with April O'Neil reporting from Liberty Island. Suddenly, Krang flies in using a giant exosuit (seen occasionally in the animated series) and steals the Statue of Liberty, moments before Shredder hijacks the airwaves to laugh at the Turtles.
The Turtles jump into action in downtown New York and pursue the Foot to the streets and the city sewers (then to the Technodrome in the SNES version), where Shredder sends them through a time warp. The Turtles must fight Shredder's army in both the past and the future in order to get home. They face Shredder until he falls to his death and the Statue of the Liberty is returned to its place.
Up to four players (two players in the Super Famicom/SNES version) can take control of Leonardo, Michelangelo, Donatello, and Raphael. Each playable character has his own strengths and weaknesses. New features in this game include the ability to execute a power attack by hitting an enemy several times in a row, and the ability to slam Foot Soldiers into surrounding enemies.
The game features the same control scheme of the previous arcade release. It uses a joystick for movement, an attack button and a jump button. Certain joystick/button combinations can make a Turtle run, perform a slide or dash attack, jump higher, perform a stationary or directed air attack, or perform a special attack.
Players guide the turtles through a series of levels. The first takes place in the streets of New York City. Later levels transport the turtles to representations of various historical eras. In each level, players face enemies from both the 1987 cartoon and the feature film Teenage Mutant Ninja Turtles II: The Secret of the Ooze, including Foot Soldiers and Stone Warriors. Tokka and Rahzar serve as end-of-level bosses.
More details about this game can be found on
Wikipedia
How to play:
Click on the joystick icon in the Teenage Mutant Ninja Turtles IV: Turtles in Time online emulator to see how to control the Teenage Mutant Ninja Turtles IV: Turtles in Time game