The Jungle Book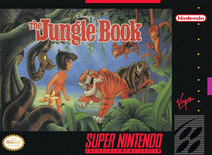 Game title:
The Jungle Book
Platform:
SNES
Author:
Virgin Interactive
Release:
1994
Genre:
Action, Platform
Mode:
Single-player
Design:
David Bishop, Bill Anderson, Erik Yeo, David Perry
Music:
Tommy Tallarico
Played:
71,766 times
Play The Jungle Book online in your browser without download and enjoy with RetroMania Online Emulator! The Jungle Book is classic game for SNES has Action, Platform genres for SNES retro console. If you love SNES Online games you can also find other emulator games on our site.
Walt Disney's The Jungle Book is a series of video games based on the 1967 Disney animated film The Jungle Book, primarily released in 1994. It was first released by Virgin Interactive in 1993 for the Sega Master System. Conversions for the Game Boy, NES (for which it was one of the last titles released by a third-party developer), Sega Mega Drive/Genesis, Sega Game Gear, Super NES, and PC followed in 1994, and a remake for the Game Boy Advance was released in 2003. While gameplay is the same on all versions, technological differences between the systems forced changes – in some case drastic – in level design, resulting in six fairly different versions of the 'same' game. This article is largely based upon the Sega Mega Drive/Genesis version.
Mowgli is a feral young boy who has been raised by wolves. Mowgli must leave his home in the jungle and go back to the human village because Shere Khan, a tiger, is now hunting him. Mowgli must fight jungle wildlife and ultimately Shere Khan himself to reach his village. During the journey he meets Bagheera, Baloo, King Louie, the hypnotist snake Kaa, as well as the evil Shere Khan.
The player controls a young Mowgli through various side-scrolling levels in a similar mold of Pitfall!. The Mowgli character must shoot or avoid enemies and negotiate platformed levels and enemies by running, jumping, climbing vines and using the various weapons and powerups available during the game. Mowgli starts the game with a banana projectile, but may collect invincibility masks, coconuts, double banana shots, and boomerang bananas during the game.
Levels are completed by collecting a sufficient number of gems, then finding a specific character placed in the level. The player scores points by obtaining gems along with having fruits and other items that contribute to the player's in-game score.
The soundtrack features tunes from the Disney cartoon that it is based on, including the popular 'Bare Necessities', 'I Wanna Be Like You', and 'Colonel Hathi's March'.
More details about this game can be found on
Wikipedia
How to play:
Click on the joystick icon in the The Jungle Book online emulator to see how to control the The Jungle Book game