Top Gear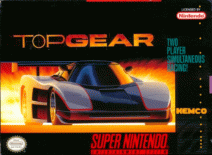 Game title:
Top Gear
Platform:
SNES
Author:
Kemco
Release:
1992
Genre:
Racing
Mode:
Single-player
Design:
Ritchie Brannan, Ashley Bennett, Simon Blake
Music:
Barry Leitch, Hiroyuki Masuno
Game manual:
Top_Gear_-_SNES_-_Manual.pdf
Played:
147,563 times
Play Top Gear online in your browser without download and enjoy with RetroMania Online Emulator! Top Gear is classic game for SNES has Racing genre for SNES retro console. If you love SNES Online games you can also find other emulator games on our site.
Top Gear (Top Racer in Japan), is a racing video game for the Super NES, published by Kemco and developed by Gremlin Graphics in 1992. The objective of the game is to become the fastest driver in the world by racing other drivers across several nations. The franchise is unrelated to the TV series of the same name.
It marks the first game in the Top Gear racing game franchise, and it is one of the first racing games to be released on the Super NES. This game and its next two sequels were created by the same developers as the similar Lotus series of games released earlier on the Commodore Amiga and Sega Mega Drive systems.
When players first start the game, they are given several options to choose from, including entering their name, a choice of four different controller layouts, a choice between automatic or manual transmission, and their choice of four unique cars. During the race, the player will have to steer and shift gears (if they chose a manual transmission). The player is also given control over three 'nitros', which allow the player to increase their speed for a short period of time. The game features a password save system, made up of automotive terms such as 'gear box' and 'oilcloth'. Each password grants access to another country to race in. During the race, there are pits in which players must stop in order to refuel. If their car runs out of fuel and coasts to a stop before the race is finished, the player will be disqualified.
The music in Top Gear mostly consists of remixed tracks from the Lotus series of racing games on the Amiga produced by Barry Leitch. For example, the title music of Top Gear is taken from the ending of Lotus Turbo Challenge 2, and the third race of each country uses a remixed version of the Lotus Esprit Turbo Challenge title theme.
The game shows a background digitized grayscale picture of the Detroit GP in 1988.
More details about this game can be found on
Wikipedia
How to play:
Click on the joystick icon in the Top Gear online emulator to see how to control the Top Gear game