Season of the Sakura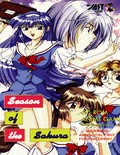 Game title:
Season of the Sakura
Platform:
MS-DOS
Author:
JAST USA
Release:
1996
Genre:
Adult, Adventure
Mode:
Single-player
Design:
Isshiki Ryotaro, Sanagi Ōshima, Usa Usagi, Izawa Saya
Music:
Takanori Nakaigawa
Played:
69,621 times
Play Season of the Sakura online in your browser without download and enjoy with RetroMania Online Emulator! Season of the Sakura is classic game for DOS has Adult, Adventure genres for MS-DOS retro console. If you love DOS Online games you can also find other emulator games on our site.
Season of the Sakura is a Japanese bishōjo eroge for MS-DOS. It was translated to English in 1996 by JAST USA, and re-released for modern Windows systems in 2002 as part of the 'JAST USA Memorial Pack'. It is widely regarded as one of their best early games. This popularity can be attributed to the game's strong characters, evocative setting, and high replay value: each of the girls has her own personality and story, and in some cases it is difficult to make the correct choices to get together with a particular girl.
The game contains some thinly veiled references to several popular anime series, including Neon Genesis Evangelion, Magic Knight Rayearth and Saint Tail: each of the female characters bears a striking resemblance in appearance and (in most cases) personality to a girl from one of these anime.
The player controls Shuji Yamagami, a Japanese high school student, over the course of a Japanese school year from April to March. The game is played by reading through text and selecting actions for Shuji to perform. The actions are chosen by combining a verb and a target from a menu, so a typical set of options to choose from might consist of LOOK -> (at the) ROOM, LOOK -> (at) REIKO, THINK -> (about) REIKO, TALK -> (to) MAKOTO, TALK -> (to) REIKO.
Shuji meets eight girls over the course of the year, any of whom can end up as his girlfriend - if the player makes the right decisions. The setting and scenes are romantic: the game skips over the drudgery of school life and focuses on holidays and time spent with his friends, as he gradually falls in love with one of the girls.
More details about this game can be found on
Wikipedia
How to play:
Click on the joystick icon in the Season of the Sakura online emulator to see how to control the Season of the Sakura game