Automobili Lamborghini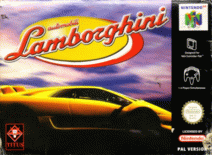 Game title:
Automobili Lamborghini
Platform:
Nintendo 64
Author:
Titus
Release:
1997
Genre:
Racing
Mode:
Multiplayer
Design:
Rob Stevens, Mirza‑Javed Baig, Eric Delemer
Game manual:
Automobili_Lamborghini_-_Nintendo_64_-_Manual.pdf
Played:
47,243 times
Play Automobili Lamborghini online in your browser without download and enjoy with RetroMania Online Emulator! Automobili Lamborghini is classic game for N64 has Racing genre for Nintendo 64 retro console. If you love N64 Online games you can also find other emulator games on our site.
Automobili Lamborghini is a 1997 racing video game developed and published by Titus Software for the Nintendo 64. It is a successor to Lamborghini American Challenge. In 1998, an improved version subtitled Super Speed Race 64 was released in Japan only. This version was distributed by Taito, presented as a successor to the company's Speed Race series from the late 1970s and early 1980s. Improvements include a new difficulty level, the ability to freely customize controls, the introduction of weather, and actual pictures of various models of Lamborghini with their names displayed before the demo screen.
Automobili Lamborghini is an arcade-style racing game similar to the Ridge Racer or the early Need for Speed series. There are 4 modes of play: Arcade, Championship, Single Race, and Time Trials. Arcade and Championship consist of a series of races and the ability to unlock various cars; Single Race is a practice mode in normal racing conditions, and Time Trials is a single player race against the player's best times.
To challenge these modes, the game features eight vehicles resembling real supercars: the two default cars, representing the Lamborghini Diablo and the Lamborghini Countach; and six unlockable cars won by beating the six configurations of championships, representing the Porsche 959, the Ferrari F50, the Ferrari Testarossa, the Dodge Viper, the McLaren F1, and the Bugatti EB110.
More details about this game can be found on
Wikipedia
How to play:
Click on the joystick icon in the Automobili Lamborghini online emulator to see how to control the Automobili Lamborghini game