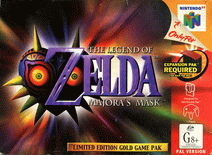 Legend of Zelda, The: Majora's Mask
Legend of Zelda, The: Majora's Mask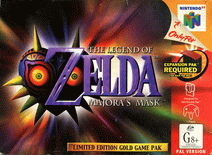 Game title:
Legend of Zelda, The: Majora's Mask
Platform:
Nintendo 64
Author:
Nintendo
Release:
2000
Genre:
Action, Adventure
Mode:
Single-player
Design:
Eiji Aonuma, Shigeru Miyamoto, Yusuke Nakano
Music:
Koji Kondo
Game manual:
Legend_of_Zelda-Majora-s_Mask_-_Nintendo_64_-_Manual.pdf
Play Legend of Zelda, The: Majora's Mask online in your browser without download and enjoy with RetroMania Online Emulator! Legend of Zelda, The: Majora's Mask is classic game for N64 has Action, Adventure genres for Nintendo 64 retro console. If you love N64 Online games you can also find other emulator games on our site.
The Legend of Zelda: Majora's Mask is an action-adventure video game developed and published by Nintendo for the Nintendo 64. It was released in 2000 as the sixth main installment in The Legend of Zelda series, and was the second using 3D graphics, following The Legend of Zelda: Ocarina of Time. Regarded as a 'dark' entry in the Zelda franchise, Majora's Mask is set in Termina, an alternate version of the usual series setting of Hyrule, where the Skull Kid has stolen Majora's Mask, a powerful ancient artifact. Under its influence, the Skull Kid causes the land's moon to slowly fall towards Termina, where it crashes after three days. The protagonist Link repeatedly travels back in time to the beginning of the three days to find a way to stop the moon from destroying the world.
The gameplay is centered on the perpetually repeating three-day cycle and the use of various masks, some of which allow Link to transform into different beings. Link learns to play several melodies on his ocarina, which have a variety of effects, like controlling the flow of time or opening passages to four temples, which house challenges Link must overcome. Unlike Ocarina of Time, Majora's Mask requires the Expansion Pak, which provides additional memory for enhanced graphics and more on-screen characters. Majora's Mask was acclaimed by critics, who praised the graphics and complex story. It is now considered to be one of the greatest video games ever made. Approximately 314,000 copies of the game were sold during its first week in Japan, and three million copies were sold worldwide.
The gameplay of Majora's Mask expands on that of Ocarina of Time; it retains the concept of dungeon puzzles and ocarina songs, and introduces character transformations and a three-day cycle. As in previous installments, Link can perform basic actions such as walking, running and limited jumping, and must use items to battle enemies and solve puzzles. Link's main weapon is the sword, which can be upgraded throughout the game. Other weapons and items are available—Link can block or reflect attacks with a shield, stun enemies by throwing Deku Nuts, attack from a distance with a bow and arrows, and destroy obstacles and damage enemies with bombs. He can also latch onto objects or paralyze enemies with the Hookshot. Magic power allows attacks such as magical arrows or spin attacks, and the use of special items.
More details about this game can be found on
Wikipedia
How to play:
Click on the joystick icon in the Legend of Zelda, The: Majora's Mask online emulator to see how to control the Legend of Zelda, The: Majora's Mask game