Spider-Man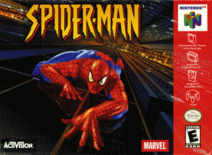 Game title:
Spider-Man
Platform:
Nintendo 64
Author:
Neversoft
Release:
2000
Genre:
Action, Adventure
Mode:
Single-player
Design:
Chad Findley, Dave Cowling, Jason Uyeda
Music:
Tommy Tallarico, Howard Ulyate
Game manual:
Spider-Man_-_Nintendo_64_-_Manual.pdf
Played:
21,892 times
Play Spider-Man online in your browser without download and enjoy with RetroMania Online Emulator! Spider-Man is classic game for N64 has Action, Adventure genres for Nintendo 64 retro console. If you love N64 Online games you can also find other emulator games on our site.
Spider-Man is a 2000 action-adventure video game based on the Marvel character Spider-Man. It was developed by Neversoft and published by Activision using the Tony Hawk's Pro Skater game engine for the PlayStation 1. The game was later ported by different developers to various systems, including the Game Boy Color and Nintendo 64 that same year, as well as the Dreamcast and Microsoft Windows in 2001.
The game's story follows Spider-Man as he attempts to clear his name after being framed by a doppelgänger and becoming a wanted criminal, while also having to foil a symbiote invasion orchestrated by Doctor Octopus and Carnage. Numerous villains from the comics appear as bosses, including Scorpion, Rhino, Venom, Mysterio, Carnage, and Doctor Octopus, as well as a Carnage symbiote-possessed Doctor Octopus named Monster-Ock, who was created exclusively for the game as the final boss.
The game has the player controlling Spider-Man as he goes through each level, either trying to reach the exit or complete a certain objective. The player must retry the current level if Spider-Man runs out of health, falls off a building or fails to complete certain objectives such as rescuing a hostage. Spider-Man is able to utilize his spider powers to traverse the environments, being able to crawl on walls and ceilings, swing short distances and instantly zip between certain points. In combat, Spider-Man can utilize a limited supply of web-cartridges to attack his enemies, either webbing them up to stall or defeat them, increasing the strength of his attacks or forming an explosive barrier. Spider-Man can also find comics, which unlock a Spider-Man comic book issue cover in the menu screen, as well as power-ups such as Spider-Armor which temporarily increases his strength and defense, and Fire Webbing which is effective against symbiotes.
More details about this game can be found on
Wikipedia
How to play:
Click on the joystick icon in the Spider-Man online emulator to see how to control the Spider-Man game