Turok: Dinosaur Hunter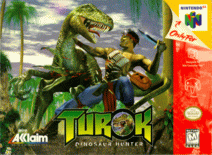 Game title:
Turok: Dinosaur Hunter
Platform:
Nintendo 64
Author:
Iguana Entertainment
Release:
1997
Genre:
Action, Shooter
Mode:
Single-player
Design:
David Dienstbier, Robert Cohen, Alan D. Johnson
Music:
Anthony Palomba, Brian Watson
Game manual:
Turok_-_Nintendo_64_-_Manual.pdf
Played:
13,954 times
Play Turok: Dinosaur Hunter online in your browser without download and enjoy with RetroMania Online Emulator! Turok: Dinosaur Hunter is classic game for N64 has Action, Shooter genres for Nintendo 64 retro console. If you love N64 Online games you can also find other emulator games on our site.
Turok: Dinosaur Hunter is a first-person shooter video game developed by Iguana Entertainment and published by Acclaim for the Nintendo 64 console and Microsoft Windows. It was released in 1997 in North America and Europe. Turok is an adaptation of the Acclaim Comics comic book series of the same name. The player controls Turok, a Native American warrior, who must stop the evil Campaigner from conquering the universe with an ancient and powerful weapon.
Played from a first person perspective, the three-dimensional (3D) computer graphics and style of play combine elements of the run-and-gun computer game Doom with exploration mechanics of Tomb Raider. Players begin the game in a central hub level, which contains portals to seven other stages. The player must find keys scattered across the stages. When enough keys have been inserted into the lock mechanisms of a hub portal, that level is unlocked. Players explore the large, typically jungle-based levels by jumping, swimming, climbing, crawling, and running.
One of the player's main objectives is to find pieces of a relic known as the Chronoscepter; there is one piece on each level. In exploring the levels the player fights various enemies such as poachers, gunmen, indigenous warriors, dinosaurs, demons, and insects. Turok features 13 weapons plus the Chronoscepter, ranging from a knife and bow to high tech weaponry. All weapons except the knife require ammunition, which is dropped by dead enemies or picked up in the levels. Enemies and boss characters have multiple death animations depending on what body region the player shot. Because items dropped by fallen enemies rapidly disappear, players must engage foes from close range.
The player character's health is shown as a number at the bottom of the screen. When the player is at full health, the meter reads 100, while dropping to 0 subtracts one life. Gathering 'life force' points scattered across the levels increases the player's life count by one for every 100 points accumulated. Players restore their health by picking up powerups, which can increase their health above full. Players may also gain health points by shooting deer or non-threatening wildlife.
The player assumes control of Tal'Set (Turok), a Native American time-traveling warrior. The mantle of Turok is passed down every generation to the eldest male. Each Turok is charged with protecting the barrier between Earth and the Lost Land, a primitive world where time has no meaning. The Lost Land is inhabited by a variety of creatures, from dinosaurs to aliens. An evil overlord known as the Campaigner seeks an ancient artifact known as the Chronoscepter, a weapon so powerful that it was broken into pieces to prevent it from falling into the wrong hands. The Campaigner plans on using a focusing array to magnify the Chronoscepter's power, destroying the barriers that separate the ages of time and rule the universe. Turok vows to find the Chronoscepter's eight pieces and prevent the Campaigner's schemes.
More details about this game can be found on
Wikipedia
How to play:
Click on the joystick icon in the Turok: Dinosaur Hunter online emulator to see how to control the Turok: Dinosaur Hunter game